Peaks of the Balkans | Self guided tour 5 days
Overview
Enjoy five days in the Peaks of the Balkans in a self-guided tour visiting top highlights of North Albania. The tour includes two main villages of the tour Theth, predominantly Roman Catholic, and Valbona a predominantly Muslim village. The two are divided by Qafa e Valbones. Though in close proximity these villages in Ottoman times had different centers of gravity. Valbona was linked more to Gjakova in Kosovo while Theth to Shkodër in Albania. 
Itinerary
Day 1: Arriving in Shkodra
The tour includes the first night in Shkoder after arriving in Albania. You can use this day to enjoy the wealth of Shkoder cultural offer.
Day 2: Shkoder – Valbone through Komani Lake 
A public vehicle will pick you up and take you to the village of Koman. After the bus, you take the boat through the magnificent lake, which is encircled by the rocky walls of the Accursed Mountains. Your road will go next to the river of Valbona featured with green colors and white water created from the collision of water with the rocks.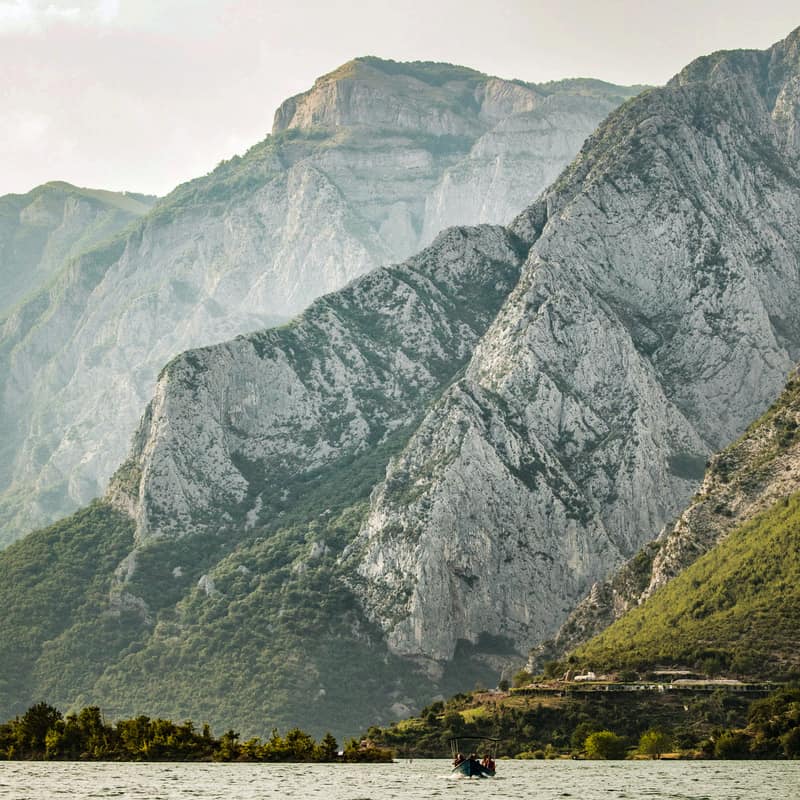 Day 3: Hike Valbone – Rosi peak 
The walk from Valbona to Maja Rosit or Rosin Vrh goes through the half-deserted village of Kukaj. This part is a very nice and easy track and in the mid-summer, you can stop at a few village houses for a glass of milk or tea. The trail serpents through the canyon for several kilometers and it continues with a steep hike. Rosi summit, 2.523 meters high, lies on the border between Albania and Montenegro and offers stunning views over both countries. Rosi Mountain is especially interesting for botanists because many flowers such as the endemic Albanian lily (Lilium albanicum), orchids, and many others can be found there.
Distance: 17.8 km,   ↑ 1378 m   ↓1594 m
Day 4: Hike Valbone – Theth 
Today you will do one of Albania's most iconic hikes from the town of Valbona (995 m) over the Valbona Pass (1759 m) to Theth (728 m). This 20-kilometer route follows the path of an ancient mule track linking the tribal regions of Shala and Nikaj.
Distance: 19.5 km,   ↑ 850 m  ↓1068 m
Day 5: Hike Theth – Nderlyse – Blue Eye 
A distant lost village has become the epicenter of visitors while preserving architecture and nature.  The village still has the Kulla and other buildings dating back to the middle ages. The village is 100 percent Roman Catholic and has the most unique structure in the world. Kulla e Ngujimit, which is a three-story rock building with no windows. You will spend this day walking in the village toward the waterfalls and naturally created "bathtubs" of the River Shala. This is a relaxing walk full of culture and natural beauties. Though the hike is quite long, it is not a difficult one as you will be walking on a trail that has few ascents/descents. From the end of the trail, you will be picked up and transferred to Shkoder. 
Distance: 11.5 km,   ↑ 266 m   ↓ 435 m
Included
GPS tracks to use via a smartphone app or on your own GPS device

Accommodation for 5 nights in hotel, guesthouse, and mountain huts. In the mountains, the rooms are shared
Transfers from and back to Shkodra
5 breakfasts, 4 lunches, 3 dinners
Our local office/representative provides customer care 24/7
Excluded
Luggage transfer (can be offered on demand)

Airport pickup and drop off (can be provided on demand)

Travel insurance (should be secured by the travelers)
Country: Albania       

|

  Duration: 5 days

Activity: Hiking           

|

  Travel style: Self-Guided

Difficulty: Moderate 

|  

Availability: June – October