Book your self-guided tour from – Euro 345
Peaks of the Balkans self-guided tour
The self-guided tours in Peaks of the Balkans are for the hikers with experience and who feel confident to hike in the Balkans without a guide. The self-guided tours give more the feeling of adventure, however they diminish the amount of information and secrets of the knowledge of guides gathered during years of experience. 
The self-guided tours can be organized independently, however during the process there will be some issues hard to be tackled by someone without experience. Some of the guest houses are in regions where there is no telephone or internet so getting to the responsible person may be difficult. As one knows bookings can be messed up even in the most sophisticated systems, thus pen and paper booking secured through SMS or a web-based message can also fail. 
The other challenge is the securing of border permits. Though we in this site offer a lot of information contacts for police change. Additionally, there is a tax you have to pay to Montenegrin police so this cannot be done online. Furthermore finding the best transfer is always an ache. 
The third is the pricing. Though one may think that booking directly will save you money, this is not always true. Companies have deals with guest houses from whom they take better prices than you can find online. Platforms like booking.com take at least 15 percent from the guest houses, so this may be added to the original plan. 
Different companies offer deals for self-guided tours from those that charge for the whole tour to those that charge you for their booking service and give you the price list for the services in the tour. 
Booking a self-guided tour with a company you win from the expertise of the company in finding the best trails, safer bookings, fewer headaches on the admin front, contact if you have an accident, and last but not the least you help the local economy. 
Check some offers from our partner company Balkan Natural Adventure. 
Enjoy five days in the Peaks of the Balkans in a self-guided tour visiting top highlights of North Albania…
Country: Albania    |  Duration: 5 days
Activity: Hiking       |  Difficulty: Moderate
Availability: June – October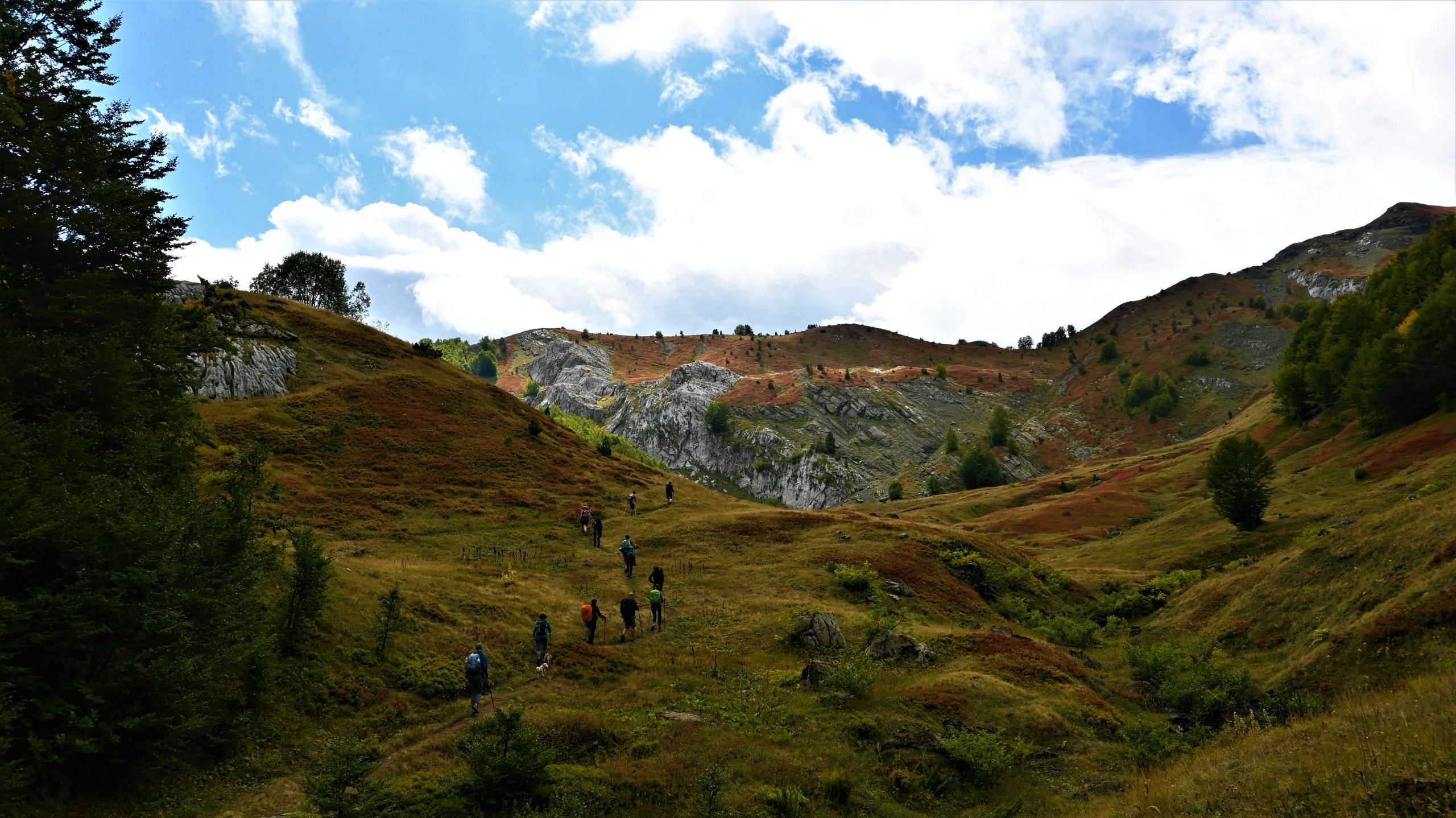 Natural and cultural heritage sights, people and tradition, landscapes with wild nature can all be found along the routes that run across these mountains.
Country: Albania & Montenegro     
Duration: 6 days |  Difficulty: Moderate 
Availability: June – October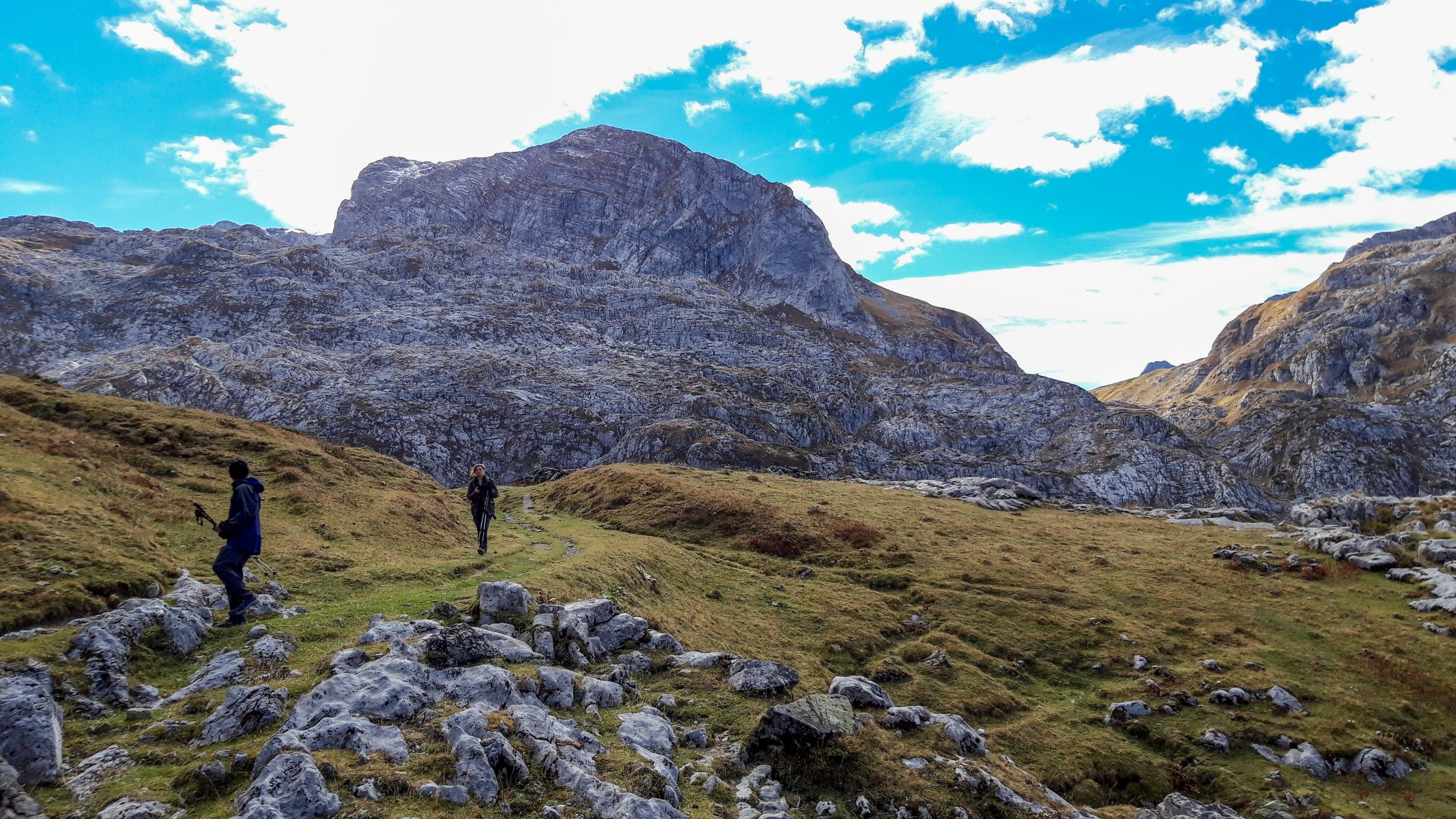 10 hiking days at Peaks of the Balkans, a journey that will take you through three countries:  Albania, Kosovo, and Montenegro.
Country: Albania, Kosovo & Montenegro    Duration: 10 days  |  Difficulty: Moderate
Availability: June – October

Amazing, safe, and smooth trek thanks to the amazing guides at Balkan Natural Adventure I went on the September 2021 open group Peaks of the Balkans trek with Gzim and Donika (and 11 new friends!). It was one of the best trips I have ever been on and I'm so glad that I decided to go with the group. Everything was smooth, from my first correspondence (which was actually pre-covid!), throughout planning, and until the end of the trek. They were always very quick to respond and helped me find valuable information that I could not find on my own to help plan my trip. I was picked up from Tirana on time, and once the group was together we began the trek. The whole trip was very well planned to include beautiful sections that were not the official trail and transport arranged for sections of the trail that did not offer much. The hiking was challenging but I felt very comfortable with the amount of breaks and we always arrived at the next village with enough time to shower, decompress, and have a well-deserved meal. The guides were extremely knowledgable about the area and it is very evident they take pride in their work, country, and the beautiful natural areas that we passed through. At the end of the trek I was ready to do the whole thing again! The guesthouses were basic but very accommodating and comfortable. I learned so much about the history, culture, and natural resources in the area. September was a great time to visit and do this trek, the mountains are covered in blueberries and the weather was perfect for hiking. I cannot recommend this company enough - I will always refer them to anyone I know that is interested in visiting the Balkans. I hope to go back one day to explore this beautiful area and will definitely be contacting B N Adventure to help me plan a trip.

Best tour we could have wished for in the Balkans We had an awesome hiking experience with the best guide we could have wished for. Mentor (our guide) was always very helpful and very knowledgeable. We did what we could with the weather we had in October. The dinners were lovely at the guesthouses and we felt very welcomed by the guesthouse owners. 10/10 would definitely do this again if I could. Robyn & Jules

Great hikking experience Me and my husband just finished the Peak of the Balkan trail. We did a guided trek with Balkan Natural Adventure company and it was stunning! Every day was different from the day before, we had all kinds of weather: sun, rain, wind and snow.The villiges on the mountains are lovely, sometimes very basic but with a lot of character, love and care. Our guide, Donika is just 21 years old but she is so mature, responsible and full of passion to the mountains. She knew the route very well and we completely trusted her. We were also lucky to meet Nol and Marigona for coffee and to thanks them for everything. Balkan Natural Adventure is a company that you can trust, everything runs just perfect! Thank you all and have all the best!! Keren and Lior from Israel.

Great guiding company We had a wonderful experince with Balkan Natural Adventure, who helped us plan a self-guided hiking trip along the Peaks of the Balkans. They helped us devise a week-long trip that matched our schedule and preferences, and they chose and booked amazing guest houses for us. Their expertise and the GPS files they shared with us were crucial! They were extremely friendly and repsonsive. We could not be happier with the experience.

johnsuggestions
2021-09-29
Trustworthy company, teamwork and superb holiday planners in Albania We used Balkan Natural Adventure for a 9 days holiday round Albania for 5 of us. Three days hiking in the northern mountains plus visits to Tirana, Berat and Gjirokaster (and managed to fit in Kruje and Appolonia). The holiday was outstanding - culture, hiking, mountains, food & history. The team in BNA did an excellent job and I recommend them wholeheartedly. We had one dedicated guide throughout - Arben, Excellent knowledge of everything and clearly enjoys the job and his deep interest in environmental standards and his country is infectious. Driving by Nol (safe - excellent) and back office planning by Marigona. In terms of the separate bits of the holiday that would depend on your interests but we wanted a balance of mountain hiking and history/culture. The only common link was Albania and great food with friendly people.

Exceptional service and experience! I had the honour of doing the Via Ferrata with the designer and builder, Gzim as my guide. It was an absolute pleasure and he was very kind and patient with me! It was a wonderful experience and very empowering , I highly recommend everyone to move out if their comfort zone and try this. The views are also stunning 5+++ stars and many thanks! 🙏

Fully recommended Very professional and helpful. They have organised our "Peaks of the Balkans" trip, by booking all accommodations and transfers, as well as helping us with the itinerary and recommendations. The organisation has been perfect, always very friendly and always timely responding. I definitively recommend them !!!

Trekking Peaks of the Balkans with Small Dogs We had an incredible 10-day trek of Peaks of the Balkans with Gzim and Donika as our guides. We were two people in an open group of 12 and we also brought along our two toy poodles. Gzim and Donika went above and beyond to ensure that we had everything we needed for a safe and enjoyable trek. Even though it was a large group, we always received personalised attention and care. Gzim even found a way to give us an extra rest day for our dogs while the rest of the group continued the trek.

Best day at the Via Ferrata with Donika We had an unforgettable morning with Donika at the Via Ferrata. It was our first time but Donika took good care of us and explained everything well. She encouraged us and we had a lot of fun during the first part of the Via Ferrata. She monitored us closely and decided after half of the trip to adapt the route ro make it even more exciting for us and fitting to our skills. We had the best time with her! She even brought some snacks to bring back the energy for the last part of the Tour. She also took care that we have some nice pictures to remember this day 🙂 I really want to come back and do some more tours with her! Thanks so much to the whole tram for the organisation. We loved it!