Peaks of the Balkans self-guided tour
The self-guided tours in Peaks of the Balkans are for the hikers with experience and who feel confident to hike in the Balkans without a guide. The self-guided tours give more the feeling of adventure, however they diminish the amount of information and secrets of the knowledge of guides gathered during years of experience. 
The self-guided tours can be organized independently, however during the process there will be some issues hard to be tackled by someone without experience. Some of the guest houses are in regions where there is no telephone or internet so getting to the responsible person may be difficult. As one knows bookings can be messed up even in the most sophisticated systems, thus pen and paper booking secured through SMS or a web-based message can also fail. 
The other challenge is the securing of border permits. Though we in this site offer a lot of information contacts for police change. Additionally, there is a tax you have to pay to Montenegrin police so this cannot be done online. Furthermore finding the best transfer is always an ache. 
The third is the pricing. Though one may think that booking directly will save you money, this is not always true. Companies have deals with guest houses from whom they take better prices than you can find online. Platforms like booking.com take at least 15 percent from the guest houses, so this may be added to the original plan. 
Different companies offer deals for self-guided tours from those that charge for the whole tour to those that charge you for their booking service and give you the price list for the services in the tour. 
Booking a self-guided tour with a company you win from the expertise of the company in finding the best trails, safer bookings, fewer headaches on the admin front, contact if you have an accident, and last but not the least you help the local economy. 
Check some offers from our partner company Balkan Natural Adventure. 
Enjoy five days in the Peaks of the Balkans in a self-guided tour visiting top highlights of North Albania…
Country: Albania    |  Duration: 5 days
Activity: Hiking       |  Difficulty: Moderate
Availability: June – October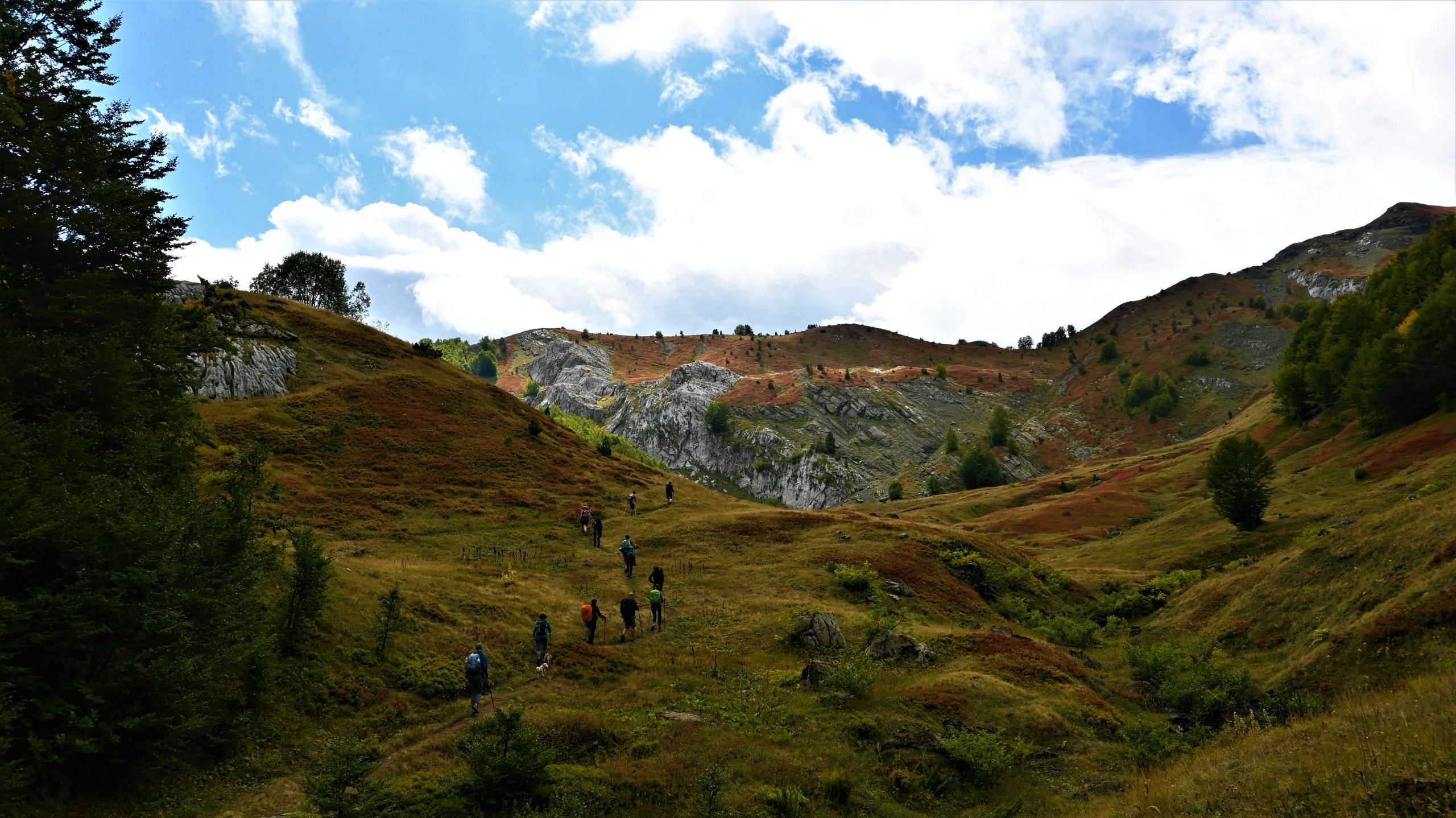 Natural and cultural heritage sights, people and tradition, landscapes with wild nature can all be found along the routes that run across these mountains.
Country: Albania & Montenegro     
Duration: 6 days |  Difficulty: Moderate 
Availability: June – October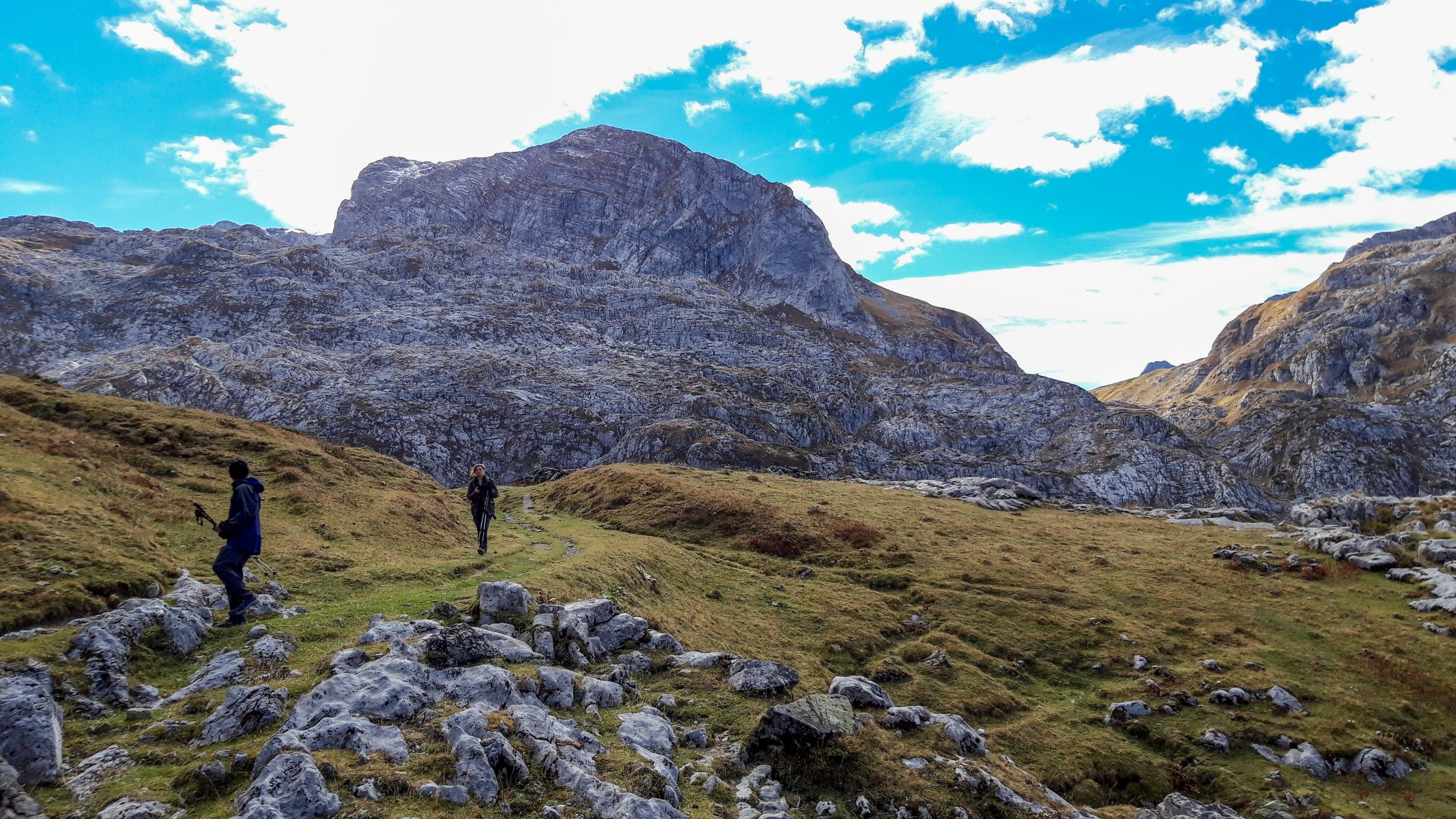 10 hiking days at Peaks of the Balkans, a journey that will take you through three countries:  Albania, Kosovo, and Montenegro.
Country: Albania, Kosovo & Montenegro    Duration: 10 days  |  Difficulty: Moderate
Availability: June – October
Peaks of the Balkans - Open Group Tour I recently joined the open group organised by the Kosovar tour operator "Balkan Natural Adventure" to hike the most beautiful sections of the Peaks of the Balkans Trek. I choose BNA for this tour as their ticked off my most important considerations: 1. Only 9 days of hiking - So far I had only hiked 4 days in a row. The original Trek is hiked within 12 days , but that felt too long for me and the available vacation days I wanted to take. 2. Route adaption - the PoB was established already more than 10 years ago. Parts of the route, especially in rural areas of Kosovo, have been under development since and are not the natural trails anymore they used to be. The local guides working with BNA therefore adapted the route to offer the hikers the nature experience they are looking for. 3. Price - Even though the first two points where the most important to me, I have to list this point as well, as BNA where partly only half as expensive as other tour operators. The hike itself was wonderful; The mountain landscape magnificent. The group was international and mixed amongst all ages. We were in total 11 hikers and we were accompanied by two mountain guides. Our head guide Mentor is a very experienced guide who knows these mountains by heart and who is part of the team maintaining the routes. He speaks excellent English (as well as Italian) and was able to answer all our questions regarding Landscape or History of this beautiful and historically interesting part of Europe. Being a solo hiker in familiar mountains, I was a bit worried prior to the hike, whether I like being part of such a big group. But the people in my group as well as the guides were awesome and I had a fantastic time. After all, we all had one shared love - the love for the mountains. Thank you BNA.
Peaks of the Balkans - unvergesslich und horizonterweiternd Zusammen mit einer Freundin habe ich im September die geführte 9/10-Tage Tour Peaks of the Balkan gemacht. Die Buchung hat super unkompliziert geklappt, und Anila hat im Vorfeld alle Fragen kompetent und schnell beantwortet. Wir waren in einer Gruppe mit insgesamt acht Personen von 25 bis 60 Jahren aus Neuseeland, Australien und Deutschland sowie einem Guide aus dem Kosovo unterwegs und haben uns alle bestens verstanden. Unser sehr netter und lustiger Guide Alb hat viel Interessantes über Land, Leute und die Gastgeber erzählt und alle Bedürfnisse und unvorhergesehenen Ereignisse souverän gemanaged. Auch die anderen Guides von BNA, die mit anderen Gruppen unterwegs waren und die wir auf dem Weg getroffen haben, waren sehr freundlich. Als ein paar von uns ein bisschen krank waren, hat uns z. B. Albi zusätzlich begleitet. Wir fühlten uns bei BNA rundum gut aufgehoben und können die Buchung über BNA nur empfehlen. Wie Wanderung war einfach traumhaft. Die Wege wurden von Tag zu Tag noch schöner und einsamer. Die Unterkünfte waren zum Teil recht einfach, aber alle total in Ordnung, und mit sehr herzlichen Gastgebern und sehr gutem lokalem Essen. Wir hatten Glück mit dem Wetter und nur Sonne. Ab und zu konnten wir uns in eiskalten Bergseen abkühlen. Die Wanderungen fand ich durchaus anstrengend (das tägliche Abendbriefing lautete in etwa "tomorrow: 1000 meters up and 1000 meters down..."😉), aber auch mit mittelmäßiger Kondition gut machbar. Die Route weicht an einigen Stellen vom Originalweg ab, z. B. am Tag 9 Grebaje/Taljanka - für mich auf jeden Fall ein absolutes Highlight der Tour. Alles in allem war die Tour ein unvergessliches und horizonterweiterndes Erlebnis!
Peaks of the Balkans Trail - self guided, We booked our self guided Peaks of the Balkans holiday via BNA. To be clear this is not the full trail but selected pieces of it with some transfers so there are plusses and minuses when considered against the full trail. We couldn't fault the organisation of accommodation and transfers through the trip, everyone was expecting us and some even asked for our reference number. Our contact was super responsive to email questions and asked for information well in advance of it being needed so there were no last minute hiccups. She also gave good advice on getting back to Tirana at the end of the trip so we would not be in a rush for our plane home. There was a nervous moment at the end of the last day when a number of different people offered their 'taxi' to us but eventually someone showed us our name on their phone so we hopped in with him! As the title suggests, there are some peaks on this hike so don't go expecting lots of flat days. The trails are well marked and the GPX files provided when overlaid on our mapping app were very accurate. We lost count of the number of times we criss-crossed borders between Albania-Kosovo-Montenegro but BNA had provided us with all the necessary paperwork in case we were asked for it. (We did hear that a walker had been charged €10 by some men who were allegedly a border patrol to check their passports but have nothing to confirm if this was actually what happened). Weather was good but you are above 2000m on occasions so it can change quickly so pack a waterproof and windproof. Apparently the streams are drinkable but there are quite a lot of animals around so maybe filter it first. Food at guesthouses was good but not spectacular and build your own packed lunch was generally excellent local cheeses and tomatoes with bread - not many shops around so take whatever snacks you want with you for that post lunch energy boost! Overall a great trip and thoroughly recommended. Scenery is amazing and, yes, you will see the odd bunker or two 🙂
What an Adventure! I can't say enough about Balkan Natural Adventure and their guides! I just came back from the Peaks of the Balkans, Ten Days, Three Countries Tour. It was an incredible, intense trip with so many incredible views! A big call out to Balkan Natural Adventure for organizing such an incredible tour as well as our wonderful guides Mentor and Albi for making everything go smoothly. I was blown away by the hikes and views and would recommend this route to anyone seeking an adventure!
All round excellence! The Peaks of the Balkans exceeded all expectations. In part for the scenery, and in part due to our phenomenal guide Vali and the wonderful group we had. I could not recommend highly enough.
Peaks of the Balkans Had an incredible 10 days' hiking the Peaks of the Balkans, great walking, wonderful people and incredible views - memories to last a lifetime! Our guides Gëzim, Albi and Buron looked after us all the way and expertly navigated all the bumps in the road, literally and metaphorically! They were friendly, approachable, and really to good to chat with! Food and board were good - some more basic than others, but comfortable and tasty. BNA were communicative, responsive, accommodating and helpful; what more could you ask for? The small group sizes were perfect - we left having made friends with our fellow hikers! Could not recommend this hike, or BNA more!
Brilliant felt very confident in BNA through out trip. As elderly lone female traveller I felt very well cared for doing Peak of the Balkans as a self guided walker. They were very efficient & professional from booking right thru to completion of my trip. Eli who I dealt with in the office tailored the trip to my exact requirements. All transfers including luggage transfers completed seamlessly & to time. Only one hiccup luggage rather wet on one occasion due to heavy rain. From my experience I would highly recommend this company. I
Our Mountain Challenge In August 2023 we completed the Peaks of the Balkans 10 day / 9 nights trek through Albania Kosovo and Montenegro. We are in our mid and late 60s and had done comparable hikes in past years, though this trek was a little more demanding than we thought it would be. However with a supportive guide and fellow walkers (all in their 30s) we never felt out of our depth or beyond our capabilities. It was an amazing and challenging experience that took us through mountains and valleys that we never knew existed! A part of the world that we had limited knowledge of, but came away with eyes well opened. Also as part of an all-comers group we made friends and shared adventures with a delightful erudite and fit cohort of young people from other countries. Vali, our guide was professional and personable, and provided us with everything that we and the rest of our group required. She was supportive, positive, very knowledgeable and lots of fun to be with. We finished the hike with many good memories (and photos). We will not hestitate to recommend the trek to other experienced hikers back home in Australia. Thank you, Vali and BNA, for facilitating the trek. Roko and Barb
Peak of Balkans Tour - excellente organisation! Une vraie référence pour organiser le tour des sommets de Balkans. On est partis en couple. On a souhaité avoir le guide qui nous accompagne mais on ne souhaitait pas être en groupe. Tout a été parfaitement organisé par Balkan Natural Adventure. La communication par email, des multiples échanges, des ajustements du programme, organisation des transferts avant et après le trek: tout était vraiment parfait. Notre guide: Donika était au top. Très professionnelle, toujours souriante et pleine d'énergie, elle nous a permis non seulement de faire 145 km à pied mais grâce à elle on a fait connaissance de la culture, de l'histoire et des habitants des 3 pays traversés. Chaque soir on logeait dans un guesthouse, toujours dans une chambre individuelle, souvent même avec la salle de bains privative. La pension complète incluse dans le séjour nous a permis de goûter à la cuisine locale et traditionnelle. C'est plutôt simple mais toujours très frais et bon. On a découvert des magnifiques montagnes, des beaux paysages et 3 pays dont on ne savait rien avant nos vacances. Très beau trek, magnifiques paysages et belle aventure humaine. Merci beaucoup à Balkan Natural Adventure d'avoir tout organisé et à Donika d'avoir été notre guide - c'était vraiment parfait.
The best way to experience the Peaks of the Balkans! I just came back from an amazing 9 day trek in Albania, Kosovo and Montenegro with Balkan Natural Adventure and I can't recommend it enough! It was truly a once-in-a-lifetime experience, full of stunning and unspoilt nature, diverse and beautiful landscapes, and warm and welcoming hospitality. We stayed in cozy guesthouses run by local families. The food was delicious and plentiful, and we got to taste some of the regional specialties. Our guides, Albi and Astrit, were the BEST! They were extremely knowledgeable about the area, the culture and the history. They were also fun and always ready to help and encourage us. They made sure everyone had a safe and enjoyable trek, no matter their level of fitness or experience. And they had a great sense of humour and kept us entertained with stories and jokes :-). The group was also fantastic. Everyone supported each other through the more challenging parts of the trek and celebrated together with a few beers at the end. I made some wonderful friends that I hope to keep in touch with. The trek was a great way to learn more about the region, its history, its culture, and its people. BNA did an excellent job of setting up the trek in a way that supports local businesses and families, while also respecting the environment and traditions. I felt like I got a glimpse into a different way of life, and I appreciated it very much. Everything about this trek exceeded my expectations. It was well-organized, well-led and well-supported; one of the best trips I've done.